Canal Executivo: environment and sustainability
Mazzaferro invests in sustainability
Mazzaferro Monofilamentos, focused on high value-added specialties, has promoted a radical change of course in the culture of its parent company Mazzaferro S/A, migrating from economies of scale to economies of scope over the past 15 years. This strategic change, also brought the requirement to produce environmentally sustainable products, aimed at optimizing the variable cost and, consequently, the company's economic result.

Certified ISO 9001:2015 since 1997, and ISO 13485:2003 (medical devices) since 2016, Mazzaferro Monofilaments has invested 3 million reais over the last three years in a modern system for recycling the post-industrial waste generated within the group. "Using the expertise coming from many years in the production of polymers, today Mazzaferro Monofilamentos transforms 600 tons/year of waste, which return to the condition of raw material," says CEO, Claudio Mazzaferro.
Of these 600 tons, more than half comes from the implementation of a sophisticated reverse logistics, which collects in the national territory fishing nets in disuse, which would take more than 800 years to be absorbed by the environment. In 2016, Mazzaferro Monofilamentos, with the help of Assenas Ambiental, formalized its solid waste management plan (PGRS) and reverse logistics (RS), which earned it the approval to supply L'Oréal, current client of Mazzaferro Color Charts, a division that manufactures wicks cards for hair coloring demonstration. The investments dedicated to recycling and environmental management in recent years have yielded a consistent economic return, reducing the variable cost per unit produced. This optimization of the transformation chain was reverted into market share, making everyone happy: society, customers, and suppliers.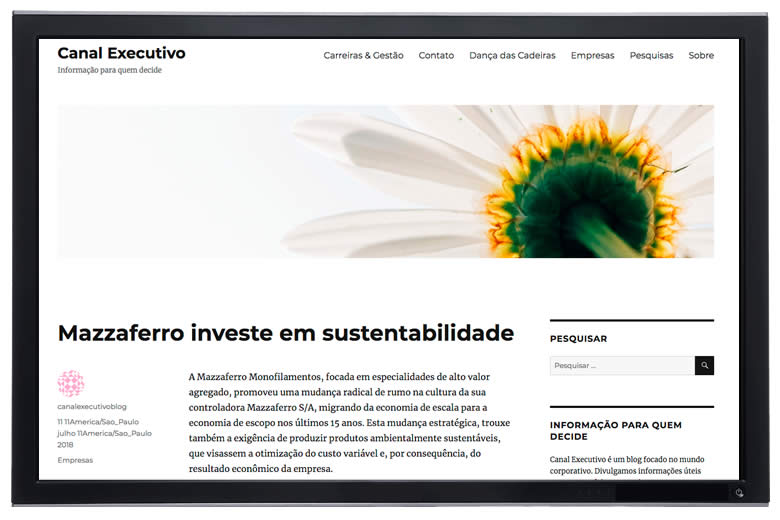 Published on Canal Executivo blog on July 11th, 2018:
canalexecutivoblog.wordpress.com/2018/07/11/mazzaferro-investe-em-sustentabilidade
Republished on July 31st, 2018:
canalexecutivoblog.wordpress.com/2018/07/31/mazzaferro-investe-em-gestao-de-residuos-solidos-e-logistica-reversa
https://mzf4.com/wp-content/uploads/2018/07/news-mzf4-executivo-sustentabilidade1.jpg
300
384
Gustavo T. Alvarenga
https://mzf4.com.br/wp-content/uploads/2019/03/logo-MZF4.png
Gustavo T. Alvarenga
2018-07-12 15:00:18
2023-07-24 13:01:29
Canal Executivo: environment and sustainability