SENAI CETIQT discusses at a meeting on the 24th the pandemic's impact on the textile industry and the importance of innovation
The pandemic affected not only the population's day-to-day life, but also impacted the global industry, radically changing demands, including consumption in the clothing sector. To debate the subject, on the 24th, SENAI CETIQT will present the event "Cycle of meetings with the industry – Innovation in the textile chain". Starting at 9 a.m., the meeting will bring together great leaders from the textile sector who will discuss not only the sector's actions in the fight against Covid-19, but also how the textile industry can differentiate and gain competitiveness by seeing new business opportunities. Among the guests are representatives from the aeronautics, automotive, uniforms and special fibers sectors, who together will debate the trends and the future of the textile area, as well as the new input applications and new markets to be explored.
Check out the schedule:
9am – Opening
Sergio Motta, Executive Director of SENAI CETIQT; Fernando Pimentel, president of ABIT; Aguinaldo Diniz Filho, former president of Cedro Cachoeira, former president of ABIT, president of the Commercial and Business Association of Minas Gerais
9:15-10:15 am – Panel: The textile industry against the COVID-19 pandemic
Moderator: Mariana Doria, Coordinator of Competitive Intelligence of SENAI CETIQT
Debaters: Fernando Pimentel, president of ABIT; Guilherme Rosman, CEO of DeMillus; and Igor Nogueira Calvet, president of ABDI
10:15-11:30 am – Panel: Textiles of the Future
Moderator: Adriano Passos, Fiber Innovation Coordinator, SENAI CETIQT
Debaters: Fabricio Saad, CMO of Mazzaferro Group; Julio Tsukada, R&D of Mazzaferro Group; Sheilla Santana, materials engineer at Ford; Gilberto Tadashi, materials engineer at Embraer.
THE SENAI CETIQT
The Center of Technology of the Chemical and Textile Industry – SENAI CETIQT – is formed by the SENAI CETIQT College, the SENAI Institute of Innovation in Biosynthetics and Fibers, and the SENAI Institute of Textile and Apparel Technology. Created in 1949, today it is one of the biggest centers of knowledge generation for the chemical, textile and clothing production chain, sectors that together generate around 11.9 million jobs in the country.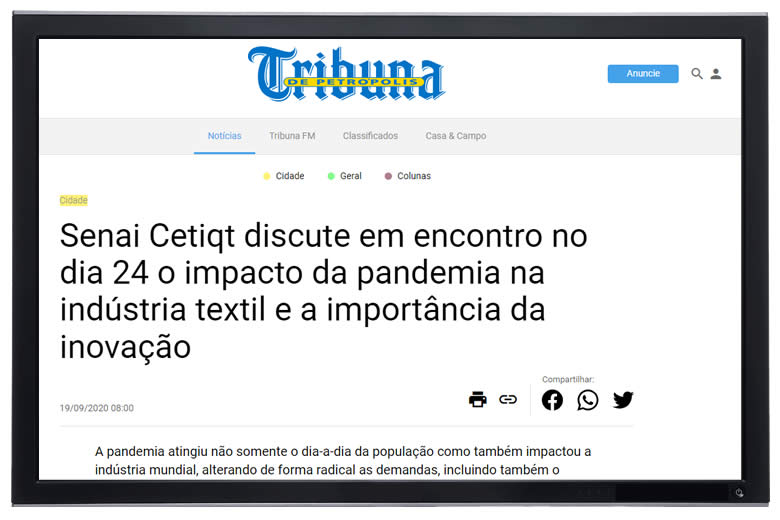 Published in Tribuna de Petrópolis newspaper on September 19th, 2020:
tribunadepetropolis.com.br/noticias/senai-cetiqt-discute-em-encontro-no-dia-24-o-impacto-da-pandemia-na-industria-textil-e-a-importancia-da-inovacao
https://mzf4.com/wp-content/uploads/2023/02/news-mzf4-tribuna.jpg
300
384
Junior Parollo
https://mzf4.com.br/wp-content/uploads/2019/03/logo-MZF4.png
Junior Parollo
2020-09-19 14:00:13
2023-07-25 13:39:49
MZF4 at Senai Cetiqt