Textília: new strategic branding
Textília.net: the greatest content of the textile chain
Mazzaferro Monofilaments has a strategic branding and celebrates 35 years
Wherever a Mazzaferro Monofilaments product arrives from now on – whether in Brazil or in one of the more than 60 countries around the world to which the company exports – it will arrive with a new brand: Mazzaferro4 – Innovation for You. The oxygenation of the brand is the result of the consolidated growth of this division of the Mazzaferro Group in recent years. MZF4 concentrates the holding's main releases and the new branding is in line with the company's strategic positioning, focusing on innovation, creativity and customization.
"The MZF4 brand reflects our focus on creating high-value solutions with a strong dose of innovation and sustainability. We stopped being a commodity company years ago and became a major center of innovation and creative economy. It was time for our fastest growing division, in terms of annual revenue, to communicate this clearly and reflect our positioning", explains Claudio Mazzaferro, CEO of the company.
Growth
In 2018, MZF4's growth was 20%. Expansion that continues in double digits in the last five years. And the forecast is to continue at the same pace in 2019. Behind the consolidated growth is an action: investment and research in innovation.
"In fact, 70% of MZF4's products are customized solutions for each of our customers, something that will now be even more explicit with the new brand and even when our physical product is not customized, our intangible product, the service, is highly personalized. It is the transformation of products into services", completes Claudio.
Who makes the MZF4
MZF4's business units have received, over the last four years, investments of RS 20 million in the evolution and diversification of product lines. An example is the newly launched musical string unit. Hyper.PRO is Mazzaferro's own brand, in partnership with the American La Bella, and enters the market to compete with the most renowned foreign players. Another four business units make up MZF4: Color Charts, which manufactures hair color wicks for Coty, L'Oréal and all the largest companies on the continent: Medical, focused on traditional non-absorbable surgical sutures with extremely high added value, serving companies such as Covidien/Medtronic and Johnson & Johnson; Monofilaments, with technical threads for toothbrushes and hairbrushes, industrial sewing threads, lawn mowers, among many other applications; and Linea Bella, producing brooms, squeegees and brushes for the continental market.
Exports
The new brand also reinforces the company's international movement, which brings together a portfolio of more than 100 clients, from more than 60 countries, all over the world. "We are indeed an international company, both because of our focus on exports and our connection with the world to seek new technologies and business models. Today, we are one of the only companies in the world that produces bulk dyed nylon yarn for hair coloring. Technology that we brought from Italy and incorporates high innovation", explains Claudio.
The share of exports in MZF4's net revenue in 2018 was 30%. And the perspective is to increase this representation to 50%, by 2022. This result has been leveraging MZF4's participation in the group's revenues, founded in 1953.
Creative concept
The new MZF4 brand is the result of six months of research and dedication by Mazzaferro's own team. "We listened to dozens of stakeholders and decided on a brand that would translate innovation and. while honoring Mazzaferro's history and strength. Our brand valuation brought attributes that we want to reinforce with MZF4: trust, quality, excellence and service.", adds Fabricio Saad, CMO at Mazzaferro.
In the choice of colors, a more diversified and lively palette brings the MZF4 division to the modern dialogue. There are 35 years of history and products that become innovative solutions for markets in Brazil and abroad.
About Mazzaferro
Mazzaferro is the biggest reference in creative solutions in products with high added value, from threads, in Latin America. The holding has two divisions: fishing products and MZF4. The latter operates in the areas of medicine, beauty, housewares, industrial sewing thread, dental bristles, musical instruments – with the recently launched Hyper – among others. MZF4 has dozens of products that positively impact and transform around 50 business chains, and is present in the daily lives of thousands of people, in Brazil and worldwide, with exports to over 60 countries.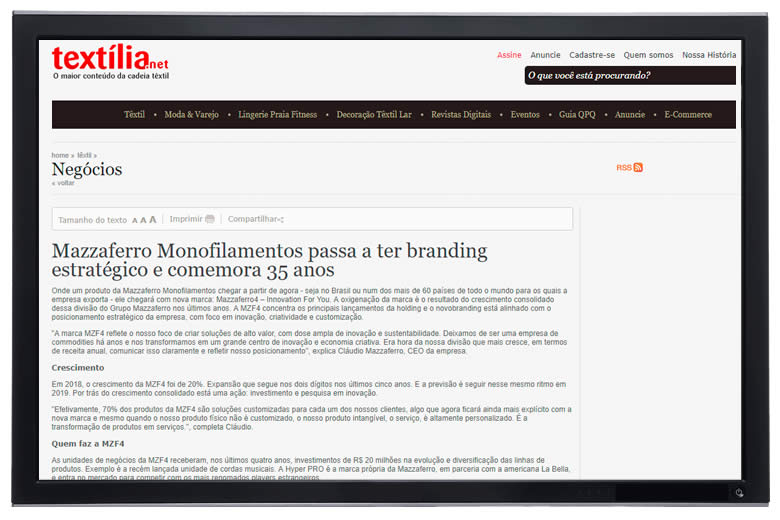 Source: Consultor Tree
Published in Textília website on February 27th, 2019:
textilia.net/materias/ler/textil/negocios/mazzaferro_monofilamentos_passa_a_ter_branding_estrategico_e_comemora_35_anos

https://mzf4.com/wp-content/uploads/2019/03/news-mzf4-textilia-1.jpg
300
384
Gustavo T. Alvarenga
https://mzf4.com.br/wp-content/uploads/2019/03/logo-MZF4.png
Gustavo T. Alvarenga
2019-03-01 15:00:09
2023-07-25 10:59:59
Textília: new strategic branding