Canal Executivo: exports should rise to 50% of revenue
Mazzaferro Monofilament's exports should rise to 50% of revenue
From commodities to specialties, from local to global. This has been the strategy of Mazzaferro Monofilamentos, which, 34 years ago, started transforming nylon into a wide range of products and today has diversified its activities. Moving from economies of scale to economies of scope, the company operates five different business units, which produce everything from suture threads for medical use to brooms, as well as color cards for hair cosmetics, guitar strings, and bristles for toothbrushes. Always on the path of innovation, the company has just created an integrated marketing agency for the beauty sector, 3Chology.
To continue growing, in the last three years alone, Mazzaferro Monofilamentos has invested more than 10 million reais in the expansion of its production capacity. The business units Medical and Color Charts (which produces color charts) have great potential for insertion in global transformation chains and are already absolute leaders in the Brazilian market. Both units have been increasing their sales around the world, leveraging the company's goal of expanding its exports from 30 to 50% of net revenue over the next five years.
At Mazzaferro Color Charts, in which the company invested R$ 5 million, the result soon appeared with a growth of over 100% in annual revenue from 2016 to 2017, and 113% in the first half of 2018 alone. In addition to continuing to advance here, where it holds a 50% market share, the unit is expanding its exports with a focus on the Americas. "Today, 38% of production is destined for the United States (the largest beauty market in the world), Canada and several Latin American countries," says Fernanda Zanella, international sales manager of the company.
Mazzaferro Medical, on the other hand, which holds 85% of the market share in Brazil, with an annual production capacity of 100 million meters of thread for human and veterinary sutures, exports 57% of its production, especially to India and China. Operating exclusively in the segment of non-absorbable sutures, still next year the company should launch to the market its line of products for orthopedics and cardiology, 90% of which should be exported.
In the Domestic Utilities unit, which operates under the brand Linea Bella and produces brooms, squeegees, brushes and dustpans, the investments were also around R$ 5 million, doubling production to 1 million units/month. "The new production capacity will be destined to the increase of the market share in Brazil, but mainly for exports to countries like Russia, Ukraine, United States, Central America, and Mexico", reveals Fernanda.
To achieve its export goals, Mazzaferro Monofilaments is present in fairs, international events, symposiums and visits. "We stand out for our personalization in customer service. We want to reside in the depth of their business intelligence," says Fernanda. Another fundamental point is to know well the country in which you intend to operate. Each market has its peculiarities and preferences. "Our research and development team is always aware of the requirements of each country, being able to customize the products according to the specific demands of each one". For Mazzaferro Medical, for example, the requirements are higher. The company offers biocompatibility tests for all products sold and ISO 13485 certification, specific for medical devices.
In the legal aspect, it also has benchmark partners in the areas of logistics and customs services. "We export to more than 30 countries, some of which are not always so traditional in commercial relations with Brazil, as is the case of Iran, Vietnam, Romania, Turkey, India, Thailand, Jordan, Poland, Czech Republic, South Africa, Morocco, among others. This requires a lot of care with documentation and 24-hour service," says Fernanda. The relationship with these suppliers who have offices in several other countries is what guarantees tranquility and agility. "While most companies in the segment can take up to eight months to make a delivery, our deadlines vary from five to 20 days," guarantees the manager.
To ensure its continuous expansion and globalization plan, the company continues to invest in new lines of operation, and today even exports sewing threads, as well as training its business managers to evaluate the value chains of the different sectors in which it operates. "We are trained to study every detail of the market where our client operates so that we can be seen not only as agents promoting value, but also innovation and results", concludes Fernanda.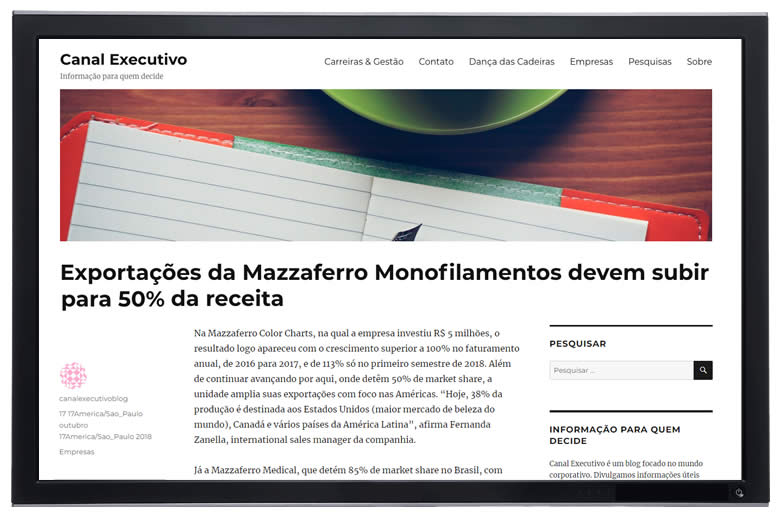 Published on Canal Executivo blog on October 17th, 2018:
canalexecutivoblog.wordpress.com/2018/10/17/exportacoes-da-mazzaferro-monofilamentos-devem-subir-para-50-da-receita
https://mzf4.com/wp-content/uploads/2018/10/mzf4-news-canal-exportacoes-1.jpg
280
384
Gustavo T. Alvarenga
https://mzf4.com.br/wp-content/uploads/2019/03/logo-MZF4.png
Gustavo T. Alvarenga
2018-10-18 10:00:00
2023-07-24 15:54:28
Canal Executivo: exports should rise to 50% of revenue