Cosmetic Innovation: challenges of beauty brands
The challenges of beauty brands facing the post-consumer
(Heloisa Bomtempo)
The beauty market presents many differentials in relation to other consumer goods sectors. More and more, we see the empowerment of people, who know themselves better, want to interact with brands, and seek ways to be unique, standing out from the masses. This is an aspirational and inspirational segment, which demands a lot of specific knowledge. In this new post-consumer context, it is common that brands find it difficult to deal with such a complex and challenging environment. There are more and more channels, which create differentiated and diverse contact points. Mapping the media and the consumption journeys is essential in this scenario. For this reason, I have listed some of the most important points in this important relationship between brands and consumers.
Having a purpose: More demanding and well-informed, consumers seek to understand the cause, the purpose of a brand. They want to feel identified, represented by it. This type of consumer has led to a strong growth in organic, natural, and ecological products, and those that do not mistreat animals during their production process, the so-called cruelty free.
Understand diversity: Gone are the days when there was a standard of beauty, where everyone should look alike. The post-consumer values diversity, the appreciation of what is natural. For this, they look for products capable of highlighting the beauty of their skin tone and hair type. It is up to the brands to understand this and propose solutions that help them in this daily task of taking good care of themselves.
Broaden the scope: The increase in people's life expectancy has made the search for beauty products increasingly greater and at all ages. The consumer is living longer and better, and it is the brands' duty to create strategies to offer products and relationships that perfectly dialogue with each audience profile, regardless of their age. Each phase has different needs and preferences.
Listening to the consumer: If the profile of the public is increasingly wide and diverse, it is necessary to create strategies to listen to them instead of staying in the world of assumptions. It is essential that companies practice in-depth social listening, listening to what the consumer has to say at each stage of the purchase funnel and observing the feedback from every presentation of the product and the brand. It is from this active listening that powerful insights are born not only for marketing and communication, but for the entire business strategy.
Organize the data: There is no point in the consumer talking if the brand does not create strategies capable of structuring what is being said. Making product and business information tangible, transforming data into strategy, has become a daily need.
Integration between on and off-line: To reach the consumer in all spheres, companies need to merge the channels between on and off-line. The capillarity of the performance depends on the multichannel strategy. In each phase of the journey, the consumer is impacted differently, which reinforces the need for brands to maintain consistency across all channels, from the website to the packaging and point of sale material.
Delivering content: By delivering the right information at the right time to each consumer, companies create competitive differentiators. Consumers are increasingly investigative and check the origin of what they receive. Therefore, it is necessary to invest in more content and less romanticism.
Create credibility: Post-consumers don't believe everything they see, and are more attentive to what is said by great digital influencers. Knowing this, brands are betting more on micro influencers, who generate less visibility, but are more able to convey credibility. Paid content has less and less relevance.
It is because of these and many other transformations resulting from the transfer of power from brands to consumers that beauty companies need to create increasingly differentiated and assertive strategies. The market moment demands bold initiatives, but very well aligned to the current world context.
(Heloisa Bomtempo is Planner & Project Manager at 3Chology, agency specialized in integrated marketing for beauty market, a Mazzaferro Group company).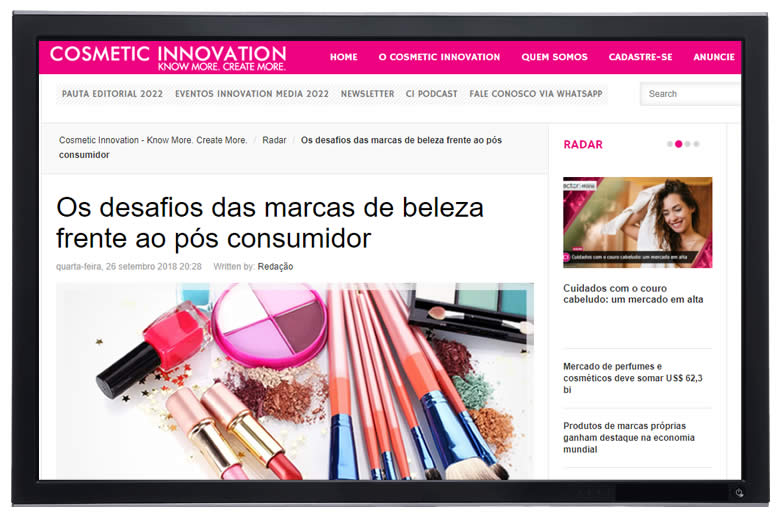 Published on Cosmetic Innovation portal on September 26th, 2018:
cosmeticinnovation.com.br/os-desafios-das-marcas-de-beleza-frente-ao-pos-consumidor
https://mzf4.com/wp-content/uploads/2022/12/news-mzf4-cosmetic-desafio.jpg
300
384
Junior Parollo
https://mzf4.com.br/wp-content/uploads/2019/03/logo-MZF4.png
Junior Parollo
2018-10-05 10:00:25
2022-12-22 03:17:57
Cosmetic Innovation: challenges of beauty brands