Mazzaferro at Social Media Week São Paulo
Latin America's biggest event on digital communication happens between September 10 and 14 (Monday to Friday).
3Chology, integrated marketing agency specialized in the beauty market, will participate in the largest digital communication event in Latin America, the Social Media Week. The company, which is part of the Mazzaferro Group, will present the panel "ominichanel strategies for the beauty market". The event happens between 10 and 14 September, at ESPM, in São Paulo.
Led by Heloísa Bomtempo, Planner & Project Manager, and Ricardo Bertoni, Creative Director, the panel will present an overview and expectations for the sector. "Brazil is the fourth biggest beauty market in the world. It is the industry segment that most invests in communication and the second that most invests in innovation. "Strategies for the social environment are the fastest growing in order to understand marketing focused on the needs of generations and their new way of building relationship with brands and products," he reveals.
The speakers will emphasize the main trends of this market in its approach in social networks, such as the breaking of traditional patterns, the search for a healthier lifestyle, as well as the search for more sustainable products. All these transformations have been empowering the consumer and forcing brands to seek positioning that break away from the traditional for a more personal and human approach. "Companies have already understood that it is necessary to know and understand the public, the contact channels and follow their buying journey", she emphasizes.
For this, Heloísa suggests the development of a complete communication mix, bringing together all the touchpoints with the customer, a 360º look at the strategies developed by marketing – which goes far beyond social media, going through the point of sale, the performance of the results until arriving at the after-sales relationship. One of the recommendations is to transform data into information that facilitates decision making. In addition, it is necessary to monitor the brand's reputation, something vital these days.
The professional also encourages the production of content capable of promoting interaction between brands and consumers. The goal is to generate audience, engagement and explore the touch points. "It is necessary to create engaging and interactive content at all stages of the purchase journey. Creating a compelling and well-tied mix, building a relationship and engagement can help segment online consumers in innovative ways in the beauty and cosmetic market. The strategy needs to take into consideration the quality and aesthetics of the communication", she concludes.
Social Media Week, from 10 to 14 September (Monday to Friday), at ESPM Tech: Rua Joaquim Távora, 1240. Lecture "Strategies of ominichanel for the beauty market" will take place on September 12, at 5pm.
Mazzaferro Monofilamentos, founded in 1984, is the largest producer of technical yarns in Latin America and serves more than 50 different industrial processing chains. Besides the Monofilament business unit, the company operates three other units: Linea Bella (houseware), Mazzaferro Medical (medical devices) and Mazzaferro Color Charts (catalogues and displays for the cosmetics sector). | http://mazzaferromonofilamentos.mazzaferro.com.br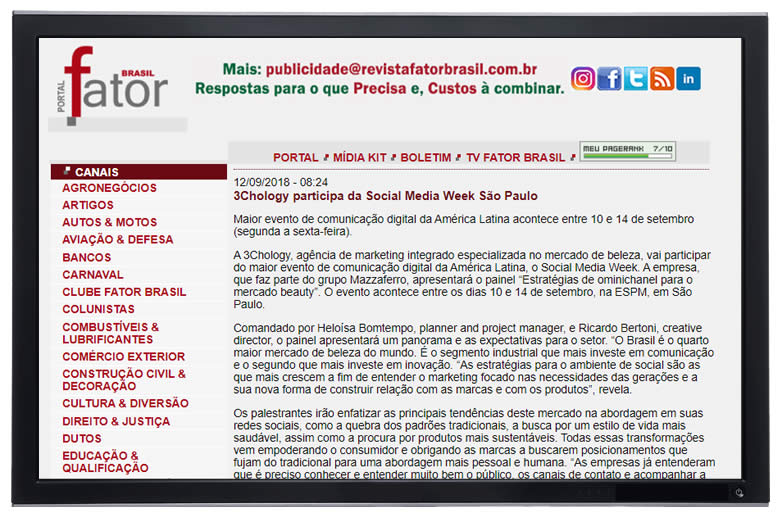 Published in Fator Brasil website on September 12th, 2018:
revistafatorbrasil.com.br/ver_noticia.php?not=366793
https://mzf4.com/wp-content/uploads/2023/07/news-mzf4-fator2.jpg
300
384
Junior Parollo
https://mzf4.com.br/wp-content/uploads/2019/03/logo-MZF4.png
Junior Parollo
2018-09-16 09:00:00
2023-07-24 15:39:15
Mazzaferro at Social Media Week São Paulo