Diário do Grande ABC: Mazzaferro 50 years
Mazzaferro completes 50 years with investments
(Carolina Rodriguez)
The fishing products manufacturer Mazzaferro, from São Bernardo, completes 50 years in 2003 without losing the pace of investment in the Greater ABC region. Every year, the company invests, on average, 15% of its revenue in factory expansion. This year, Mazzaferro has already invested US$ 2 million (R$ 5.7 million) in the purchase of equipment, including polymerization reactors and loom machines. For the second semester it is foreseen another investment of US$ 2 million (R$ 5.7 million) as working capital. Mazzaferro is the exclusive reseller of Coleman in Brazil and invests in the formation of stock of North American brand products.
One of the reasons that explain the good performance of the company in the country, according to the director Giorgio Sanfilippo, is its variety of products. Mazzaferro began its activity in the country in 1953 producing fishing line. At that time, however, the raw material used was still imported. Six years later, in 1959, the company also began to synthesize the polymer used in the manufacture of nylon. From there, the representative of the region began to market not only products for fishing, but also polyamide, widely used in other industrial segments, including automotive, food, cosmetics and hygiene.
Mazzaferro participates currently with 30% of the nylon market in the country, competing with multinationals such as Basf and Rhodia. In the food packaging segment, for example, the company has a 70% share of the segment. In the foreign market, the manufacturer from Grande ABC exports nylon mainly to Chile, where fishing is widely practiced, and other countries like Argentina, United States, Australia, Africa and New Zealand.
Currently, one of the ways found by the group to expand its operations in the Brazilian market is to establish partnerships with foreign manufacturers of products related to fishing and also to the leisure and adventure segments. After the success of the agreement with Eagle Claw, in 1996, Mazzaferro also closed, last year, a contract with Coleman. "We want to maintain our performance in the market we already know and conquered," said Sanfilippo.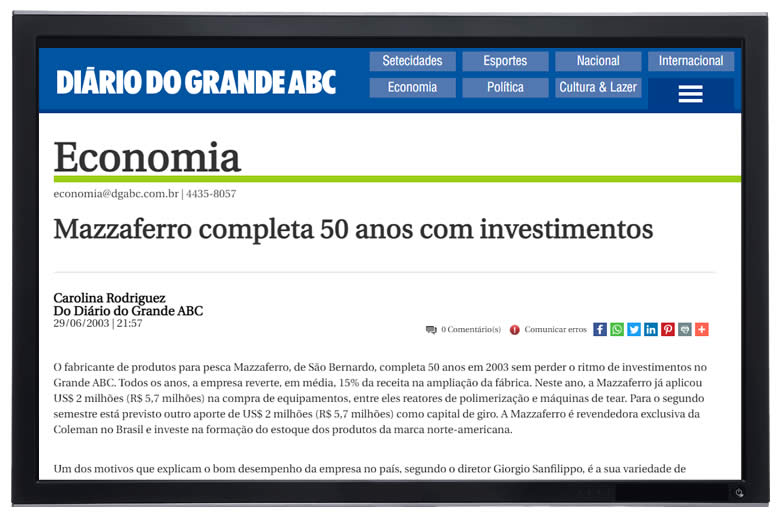 Published in Diário do Grande ABC newspaper (São Paulo, Brazil) on June 29th, 2003:
dgabc.com.br/Noticia/412739/mazzaferro-completa-50-anos-com-investimentos
https://mzf4.com/wp-content/uploads/2023/07/news-mzf4-dgabc.jpg
300
384
Junior Parollo
https://mzf4.com.br/wp-content/uploads/2019/03/logo-MZF4.png
Junior Parollo
2003-07-01 10:00:34
2023-07-24 12:25:39
Diário do Grande ABC: Mazzaferro 50 years