Heloisa Tolipan at SENAI CETIQT
Cycle of Meetings with Industry gathers experts and debates innovation in the textile chain in times of Covid
During live, we follow the actions developed by industries and companies that have responded and responded quickly to society. Learn how companies are doing to keep themselves more and more active, learn about the creative solutions with which the industry is recovering the losses accumulated since March and the transformations in the middle of the Fourth Industrial Revolution. Executive Director of SENAI CETIQT, Sergio Motta pointed out that there is "a great demand in the implementation of Industry 4.0 in Brazil and for professionals with new profiles, with knowledge in the area of information technology and communication, digitalization, industrial automation, 3D printing, sustainability and circular economy. In other words, a new world in which the industry has SENAI CETIQT as a partner to take this new step".
From one day to the next the global reality changed. Suddenly, we are all faced with the pandemic of the new coronavirus. In Brazil, since March, industries, companies and society had to "turn" days and nights to adapt and innovate in these new times we are living. And the Cycle of Meetings with Industry, promoted by SENAI CETIQT, gathered in a virtual environment players from the textile and clothing, automotive industries, besides representatives from a plurality of companies from the country for an immersion about the technology and innovation that permeated the actions and vigorous responses to the context. "The state-of-the-art infrastructure and a highly specialized team from SENAI CETIQT allowed for the immediate response to the new demands that appeared in the fight against the infection by the new coronavirus", observed the executive director of SENAI CETIQT, Sergio Motta, highlighting the development of functionalized textile materials with antiviral action, the modeling, prototyping and usability of protective masks, hoods, face shields – materials donated to health professionals who are on the front line in hospitals -, the technology of anti-covid non-wovens for use in hospital PPE, and also the development of a thickener for alcohol gel using nanocellulose as a base.
To talk about the theme "Innovation in the Textile Chain", SENAI CETIQT promoted the live divided in three stages: an opening table with the executive director of SENAI CETIQT, Sergio Motta; the president of the Brazilian Textile and Apparel Industry Association (Abit), Fernando Pimentel; and the president of the Commercial and Business Association of Minas Gerais, Aguinaldo Diniz Filho. Next, the panel "The Textile Industry against the Covid-19 Pandemic" counted on the participation of Igor Nogueira Calvet, president of the Brazilian Agency for Industrial Development (ABDI); Guilherme Rosman, CEO of DeMillus; and Fernando Pimentel, president of Abit. Mariana Doria, coordinator of Competitive Intelligence at SENAI CETIQT, was in charge of the moderation. In general terms, the panel dealt with the innovative and creative solutions that companies – in a moment of national emergency and global crisis – have made and make a difference.
The second panel dealt with the "Textiles of the Future" and was moderated by the SENAI CETIQT's Fiber Innovation Coordinator, Adriano Passos. The CMO of the Mazzaferro Group, Fabricio Saad; the R&D of the same group, Julio Tsukada; the materials engineer Sheila Santana, from Ford; the materials engineer Gilberto Tadashi, from Embraer; and the executive director of Santanense, Rogério Nogueira, were invited to talk about what is most avant-garde and incredible in the sector.
Advisor of SENAI CETIQT's executive board for Special Projects and Institutional Relations, anthropologist Marcelo Ramos opened the Cycle of Meetings commenting that the pandemic brought a serious impact to the world industry and to the Brazilian Textile and Apparel Industry, but allowed for an immediate reaction in face of the adverse context. "As in every situation that generates innovation, the adverse context produces new ideas. The institutions that were prepared to face this moment with state-of-the-art infrastructure and skilled technical professionals were able to respond. We saw this happen in the National Textile and Apparel Industry and in SENAI CETIQT", he pointed out.
Executive Director of SENAI CETIQT, Sergio Motta pointed out that there is "a great demand in the implementation of Industry 4.0 in Brazil and for professionals with new profiles, with knowledge in the area of information technology and communication, digitalization, industrial automation, 3D printing, sustainability and circular economy. In other words, a new world in which the industry has SENAI CETIQT as a partner to take this new step. I cannot fail to mention the transversality of the textile sector through this innovation of materials. As an example, in agriculture we have textiles for controlled fertilization and geotextiles for underground dams. In the mobility area, the incorporation of conductive fibers for communication with electronic devices. In the health area, antiviral textiles, textiles with controlled release of drugs. In civil construction, textiles for thermal and acoustic insulation and photovoltaic fabrics. All of this is already in full development". He added that for so many projects that are already realities, SENAI CETIQT has a systematic approach in its strategic planning to internalize these concepts and pass them on to the industry. "We have included these emerging themes in the curricula of all SENAI CETIQT courses, the implementation of a Fashion Lab, which is an environment for companies to work on creation and prototyping, and the creation of a model clothing factory to work on themes such as lean, agile, and sustainable production," Sergio Motta said.
The Armed Forces have demanded research from SENAI CETIQT for the development of new materials and fabric functionality. "This is an area that has grown a lot and I see it as a present and future for SENAI CETIQT. And, in partnership with Abit, we have recently implemented a Nucleus of Sustainability and Circular Economy", commented Sérgio Motta, also emphasizing that, in this moment of pandemic, SENAI CETIQT's capacity to respond to the demands that appeared was extremely fast. "The state-of-the-art infrastructure and a highly specialized team from SENAI CETIQT allowed for an immediate response to the new demands that appeared in the fight against infection by the new coronavirus", he said, highlighting the development of functionalized textile materials with antiviral action, the modeling, prototyping and usability of masks, cloaks and face shields for front-line professionals in hospitals; the technology of anti-covid non-wovens for use in hospital PPE and N-95 masks, and the development of a thickener for alcohol gel using nanocellulose as a base.
Sergio Motta highlighted the constant incentive of Aguinaldo Diniz Filho who, as president of the Technical Advisory Board, strongly influenced the strategic vision of the future of CETIQT as an inducer of technology and innovation for the textile and apparel industry, besides greeting all those present at the virtual meeting. Aguinaldo Diniz Filho, who was a student at SENAI CETIQT, pointed out that he made a professional trajectory with the knowledge acquired in the institution's classes. "How SENAI CETIQT is the main pillar to be able, in a long-lasting way, to work to generate jobs for thousands of people? It is two points: urgency and innovation. I say that the big variable is people. The company can be big, medium or small, but innovation in all its transversality, in all its path, in all its sphere is the path, the great transformation. Innovation and people. And for us to face this volatile, uncertain, complex and ambiguous world, the new reality demands doing more; doing it better; doing it faster and doing it for less. This is the road we have to travel. What are the bases for doing this? Investing in people and innovation. Look at the Aeronautics and Automotive sectors with us today. The CETIQT is essential".
FIRST PANEL: THE TEXTILE INDUSTRY AGAINST THE COVID-19 PANDEMIC
Coordinator of competitive intelligence of the SENAI Institute in Biosynthetics and Fibers, Mariana Doria pointed out that the objective of the panel was to show the importance of having a structured industry, present in the country that, in moments of national emergency and global crisis, made and makes all the difference. "If we didn't have this industrial chain here we would not have been able to meet society's needs with the urgency and speed that were necessary," said Mariana.
President of ABDI, Igor Nogueira Calvet commented that the pandemic has accelerated structural changes in the industry. One of ABDI's missions is to produce increased digital maturities, assisting the Brazilian productive sector in its digital transformation. "What we imagined would occur over the next five years suffered a strong acceleration. Many remnants of that moment will remain, not only from the point of view of the consumption and production pattern, but also the work pattern of each one of us," he noted.
In the textile sector, according to him, a change is occurring not only in consumption habits but also in production, with more agile methods, more robotized, with the use of artificial intelligence, of machine learning, with large contingents of data for production that help consumption. And the consumer has also changed. So there are two aspects: a change in consumption habits and a necessary change in production. And also, the change in the purchasing channels, such as omnicanality.
Another movement that Igor has been following is the increasingly stronger integration of the production chains. Suppliers talking among themselves and the product reaching the final consumer in an integrated way. "Basically, it is the knowledge of consumer habits that has been driving this, but now in a much more integrated way, using technology," he said.
In this moment of pandemic, in Igor's and ABDI's vision, the mindset and organizational culture of companies need to transform to an environment of new production standards, with the massive inclusion of technology in production and consumption processes. He stressed that the textile sector can be an important focus in the recovery of the Brazilian economy via innovation. And he recalled the rapid development of conductive fibers, antiviral textiles, photovoltaic fabrics, and immediate consumer adoption. "The textile sector employs a lot and has a lot of technology impact. And it has a growth potential in the area of innovation. And it is a democratic sector, because besides being in all sectors of the economy, it can be in all regions of the country with its products, generating jobs and embarking on a lot of technology," he commented.
He highlighted ABDI's actions of investments in projects for the development of antiviral and intelligent fabrics and the creation of platforms that enhanced and facilitated processes of purchase and sale of equipment during the pandemic. "We created algorithms to map the supply of beds and ICUs, as well as a platform, EPI Match. We were able to quickly bring together PPE manufacturers and demanders, especially when it comes to masks, hospital garments, goggles, caps, and aprons made of innovative materials from the textile sector," he said.
For the president of Abit, Fernando Pimentel, Brazil has everything to be a bioeconomic powerhouse in the area of textiles and apparel. "It is no wonder that NUSEC/SENAI CETIQT was created, the Sustainability and Circular Economy Center, which aims to work on this entire agenda that was already in evidence and that accelerated, as well as others, during this pandemic period. It is a point of no return", he stated, also remembering that the investment in digital technology grew in six months what it was supposed to grow in six years. "This is an opportunity to show the great integration that we have in the textile and apparel industry from waking up to sleeping, going through a series of areas of which society is not aware that it is using articles made with textile products", he analyzes.
Fernando Pimentel remembered that "in the agribusiness sector, we have a series of textiles. In heavy construction, textiles. And what is consumed of fiber in the world, around one hundred million tons, is destined for clothing, which is the most expressive consumption to clothe seven billion and 200 million people, rising to nine billion in the coming years".
And how did the textile sector act when faced with an emergency situation with the pandemic of the new coronavirus? "If we didn't have an organized and structured industry, we wouldn't have the capacity to respond. What did we do at Abit? First of all, we tried to connect the dots: who needs and who can offer. In all forms: whether it was social protection, mainly home-made masks, or industrial production to meet medical-hospital needs. We followed traditional textile companies that invested to produce medical-hospital equipment that could be certified ahead. The country, which at that initial moment imported 85% to 90% of its needs – I'm going to focus on masks, aprons, etc – made a spectacular leap and today we are surplus and exporters. Our role, in that phase of the "Old West", when there was still no EPI Match working, was on hand, assembling spreadsheets and building the supply map that could guide everyone – at that time our very strong interface was with the Ministry of Economy to assemble this mapping of what would be needed and how we could get it to the hospitals and health professionals.
In the flashback, Pimentel also recalled that in certain periods in those first six months of the pandemic in Brazil, cargoes were confiscated, respirators did not reach the places where they were supposed to arrive. "If we, with the size that we have, did not have this industry, we would have gone through more dramatic times than those we went through. We are very pleased with the Abit team for building, together with the Brazilian industry, with SENAI CETIQT and with the government agencies this mapping and response that, today, is much more structured. Life is the greatest asset of a nation", he affirmed.
Fernando Pimentel also pointed out that a crisis has three fundamental elements: duration, solution, and lessons. The lessons are there, visible. With the words of Abit's president: "We, from the textile and apparel industry in Brazil, have double the participation of the manufacturing industry as a whole in the international scenario. This relevance, capillarity, embedded innovation, whether that which we import from other sectors, or that which we generate from our conceptions, idealizations and executions show that this sector, which moves more than two trillion dollars worldwide, will be a fundamental vector in this recovery. The Global Fashion Agenda, which can be translated as Global Textile Agenda, has the pillars of Industry 4.0, of the circular economy, it has the sustainable composition of materials, we have the promotion of improved working conditions, the fight against climate change, traceability, and the efficient use of the inputs we work with. And this knowledge network of production and supply of sustainable quality products will make all the difference in our future. The lessons are clear: let's strengthen our industrial production park without artificialities and, within it, the textile and apparel industry, which has shown itself capable, competent and agile to meet the fundamental needs of health and care of Brazilian society".
The CEO of DeMillus, Guilherme Rosman, said that the company is more than 70 years old, currently has five thousand and 500 employees, and the production of intimate fashion is known as the "lingerie that wears best in Brazil." "In early March, the company created a multidisciplinary committee concerned with human resources and how to minimize what was coming ahead. At the beginning of April, we saw a rush for PPEs. Along with this, De Millus' sales to retailers went to zero and the other channel, which is direct sales, door to door, fell 40%, 45%. We had a situation of a drastic fall in revenue, of a crisis in relation to minimizing the risk of employees, and an appeal from society and the medical field for support at this time. DeMillus, together with Fitesa and its internal engineering, modified equipment and was able to adapt to produce high quality disposable masks and aprons. We produced about five million. In addition, DeMillus donated almost 300 thousand masks to institutions, to community associations, to needy hospitals, to federal universities, to Fiocruz. It donated more than 65 thousand aprons to Franciscan hospitals and needy hospitals, trying, in this way, to meet society's demand". Recently, DeMillus launched the antiviral mask, which will soon be in the sales catalog.
What happened after May/April? "The retailer channel continued to suffer, but the door-to-door channel came back and came on strong with resellers selling and delivering to end consumers. From May to today, DeMillus increased its staff and started to attend to retailers again.
And what will we see from now on, even if we still live with the new coronavirus? Fernando Pimentel explains: "In this nearshoring issue, which is an international discussion, we are developing a work with the production chain of the medical-hospital and defense areas in order to have an intelligent industrial policy that is different from a policy of subsidies. A consistent innovation policy. We understand that the world is not going to stop, globalization is there, but some strategic areas need different attention. And, again, to reiterate that we will come out of this crisis stronger. We have shown capacity for action, reaction, and execution. And it is this that, added to a strategic line of work that has great pillars at SENAI CETIQT, through our Textile 2030 and all the work we have been doing with you in several areas, we have direction, we have path, we have what to present. And let us present ourselves with the strength we have, with the necessary humility to recognize what we lack in strength, but knowing that there are strategies, proposals and propositions. And that an integrated sector such as ours, which is the largest productive chain in the West with these characteristics, will be one of the fundamental pillars of our country's recovery. This union, this ecosystem – academy, industry, associations – few countries have. And we have to value this and improve this environment.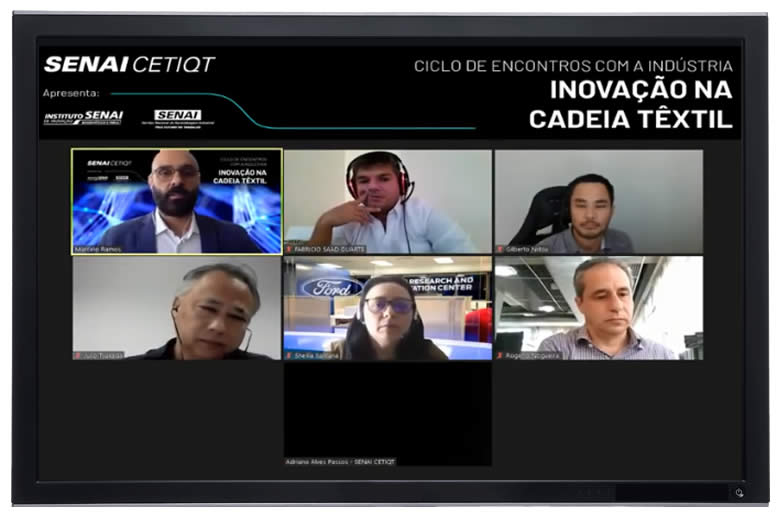 SECOND PANEL: TEXTILES OF THE FUTURE
Fiber Innovation Coordinator of the Biosynthetics and Fiber Innovation Institute of SENAI CETIQT, Adriano Alves Passos said that the panel's idea was to stimulate the look for possibilities of market demands, identify business opportunities and new markets for the textile sector, expanding its applications through innovative actions, in order to add competitiveness.
And what is the importance of innovation for companies?
Materials engineer at Ford, Sheila Santana said that all products that are developed for South America go through the Product Development Center, in Camaçari, Bahia, and that she has noticed a very big change in consumer behavior, which has been demanding materials with greater thermal comfort, ease of cleaning materials or even materials that do not get dirty and, now, with antiviral protection because of the new coronavirus pandemic. "There were already materials with some protection, but the antivirals came very strongly at this moment. Even because of the use of shared cars", he revealed.
Fabricio Saad Duarte, from the Mazzaferro Group – originally Italian and in Brazil for 70 years – said that the holding company has Mazzaferro for fishing products and MZF4, which manufactures everything from sewing thread for seat belts and car seats to 90% of the dental bristles consumed in Latin America. "Where there is thread, we joke that there is Mazzaferro, and it really is that way. And Mazzaferro became the first ISO Innovation certified company in Latin America. And it was the third ISO 56,002 certified in the world, behind a British and a Chinese company. Today, MZF4, in terms of medical that operates in the sector of non-absorbable sutures such as nylon, is considered a global reference. I would say that the basis of everything is management, process, but also a lot of trends, innovation. We have some fronts, with SENAI CETIQT, of new materials, another 3D front, in the textile segment and another more linked to technology".
Embraer's Materials Engineer, Gilberto Tadashi emphasized that innovation is one of the aircraft manufacturer's values and is present not only in the products, but also in the processes and management area. "We have unveiled a new concept of electric flying vehicle called eVTOL. Embraer has a project to increase the electrification of aircrafts, which is a challenge for the world aviation industry, for the development of a new generation of propulsion systems. When we talk about innovation in the process area, we have an entire Industry 4.0 front. And, to close, Embraer entered the list of the most innovative in the area of people management with the technical mentoring program," he said.
What about trends and potentials, other uses or functionalities for fibers and textile materials in aircraft? "There is a big trend towards antimicrobial materials because of the covid-19 pandemic in aircraft interiors. Antimicrobial fabrics for protection in areas with high flow and contact between passengers. Another trend in the textile area that we notice inside the airplanes are the intelligent fabrics, which regulate the seat temperature, change color and other functionalities. Sustainability is a constant concern at Embraer. We have the Integrated Development of Environmentally Sustainable Products group, which tries to address the environmental issue for the product since its development phase", he commented.
Rogério Nogueira Gonçalves, executive director of Cia de Tecidos Santanense, stated that innovation has to be in the company's DNA. "We are a company with several focuses, but the biggest one is uniforms. We are today the largest company in Brazil and Latin America in the part of fabrics for uniforms. Innovation is in the uniformization part in four pillars. One is the issue of image, or image wear, as people call it; the issue of sustainability; and also protection and comfort. And he said that the company operates in a fully sustainable way in the production of flame retardant, repellent, anti-microbial, UV-protected, easy care, soil release, and anti-static fabrics and uniforms. "At the beginning of the pandemic it is obvious that we had a decrease in production, because of the care we had to take with our employees. But as soon as conditions were restored, we saw that we would become indispensable. The demand for uniforms in the health area exploded. People who bought a thousand wanted to buy a hundred thousand. And we were able, with speed in innovation, to respond to the market, serve the hospital sector, and continue producing. Innovation helps in the crisis. The crisis always makes us stronger. And you have to have speed. And more: wearable is the future. I see the wearable integrated into the uniform.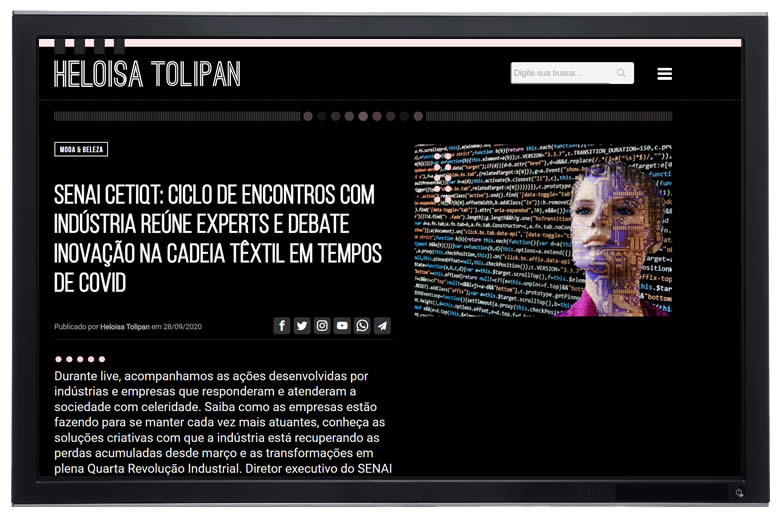 Published in Heloisa Tolipan's website on September 28th, 2020:
heloisatolipan.com.br/moda/senai-cetiqt-live-ciclo-de-encontros-com-industria-reune-experts-e-debate-inovacao-na-cadeia-textil-em-tempos-de-pandemia
https://mzf4.com/wp-content/uploads/2020/10/news-mzf4-heloisa-1.jpg
300
384
Junior Parollo
https://mzf4.com.br/wp-content/uploads/2019/03/logo-MZF4.png
Junior Parollo
2020-10-01 08:00:12
2023-07-25 14:00:11
Heloisa Tolipan at SENAI CETIQT