ISO 56002: all you need to know
Have you heard about ISO 56002 and, especially, how it has benefited many companies to grow and stand out? Also known as ISO innovation, it is a norm created by the International Organization for Standardization (ISO) with the objective of encouraging organizations to think and act outside the box, through actions based on a key principle: innovation. In an increasingly competitive market, the implementation of innovative strategies can make all the difference for your business to stand out, from a management model completely appropriate to the demands and needs of each company. Over the years, more and more managers and entrepreneurs have seen the need and benefits of this strategy. According to a survey conducted by the National Confederation of Industry (CNI) in 2019, one in three entrepreneurs believe that the Brazilian industry will need to take a leap in innovation in the next five years to ensure the sustainability of business in the short and long term. If your company is still not aware of this standard and the advantages it will bring to your business, you are in the right place. In this text, we will explain everything you need to know about ISO 56002, its benefits, and how a specialized consultancy can help you implement this standard.
What is ISO 56002?
ISO 56002 – also known as the innovation ISO – is a standard that establishes the guidelines for an innovation management system. It points out a set of guidelines to be adapted by each company according to its demands, needs, and objectives. It is part of more than 22,000 technical standards created by the International Organization for Standardization (ISO), an independent international non-governmental organization founded in Geneva, Switzerland, in 1947. We will explain better the reason for the emergence of this organization, but first, we need to clear up a very common doubt about this topic: what is considered to be an innovation? Many researchers, experts, and professionals in the industry are in doubt about this answer. To help them, ISO itself has established a definition of innovation for the implementation of this standard. For it: "an innovation can be a product, service, process, model, method, or a combination of any of these. The concept of innovation is characterized by novelty and value. This means that ideas and inventions without the manifestation of value are not innovations". In short, we can understand that innovation can come and go from anywhere, as long as its implementation generates value for the organization. This helps managers who wish to adopt this process internally, since they have several possibilities to adopt innovative actions in their favor. To achieve these results, however, it is necessary to know some fundamental points about this standard. Let's start by understanding a little more about its purpose.
What is ISO 56002 for?
The main purpose of ISO is to create standardized business management systems. In the case of the innovation ISO, this is applied through a methodology capable of making companies more prepared to deal with the high impacts caused by the transformations in the labor market. In recent years, the corporate world has been facing a huge digital transformation driven by the emergence of huge, advanced technologies. Amidst this scenario of constant change, the creation of a standard that would help companies deal with these novelties through adaptable management standards has become extremely necessary. It may seem contradictory to think of a standard that, in theory, refers to something rigid, but that, in practice, allows for enormous flexibility and adaptation of strategies – and that is exactly what ISO 56002 aims at. Unlike other standards, the ISO for innovation does not determine the rules to be followed by companies wishing to implement it, but the guidelines to be followed. In this process, it is up to the organizations to analyze the best strategy to be defined according to their needs and goals to be achieved. At the end of their implementation process, companies can still go through a certification audit to get their certificate of compliance. This step is not mandatory, but it can bring enormous benefits to the market, which we will detail later. The standard was completely developed based on eight fundamental pillars for an efficient innovation management system. Check the next topic to find out.
What are the pillars of ISO 56002?
The innovation ISO was elaborated in eight pillars. They are:
• Strategic direction: every innovation project needs a strategic direction. For this, companies must define their objectives, purpose and policy aimed at innovation and, based on this, create indicators to measure the results;
• Process approach: the ISO innovation seeks to transform creativity into a fiscal note, and the only way to achieve this is by defining the roles and responsibilities of those involved, in addition to the resources needed to innovate (people, time, knowledge, infrastructure and investments);
• Value Generation: Innovation needs to generate measurable and tangible results for the company, whether by increasing revenues or reducing expenses;
• Leadership focused on the future: leadership is essential to multiply and generate the engagement of employees for innovation;
• Adaptive culture: having an adaptive culture focused on empathy, collaboration, and experimentation is fundamental for the process of implementing this system to be effective. It must be stimulated in all hierarchical levels of the company;
• Uncertainty management: every business is subject to risks, and for the innovation ISO, these must be considered as possible opportunities. These uncertainties can be used to develop a contentious action plan for the threats, and idea management for the opportunities, always aiming at innovation;
• Resilience and adaptation: in a world marked by increasing market transformations, the managers and leaders responsible for leading this process must have a resilient and adaptive posture to deal with these changes in the best way;
• Insight management: to operationalize all the previous pillars, ISO 56002 suggests the use of a funnel with five stages: hypothesis identification, concept creation, concept validation, idea development, and innovation implementation. These indicators should be analyzed to assess whether it is time to move forward or backward in the development of each initiative.
Sounds like a lot, but don't be discouraged! The implementation of ISO 56002 is hard work, but the benefits that it will provide to your business will be worth all the effort. Let's find out what those benefits are.
What are the benefits of ISO 56002?
Faced with a growing need for innovative processes in the labor market, the main benefit of ISO 56002 is to provide strategic direction for companies to adapt to these changes, giving life to new ideas and new postures that will take advantage of the best that the environment and people have to offer an organization. From the organized elaboration of an innovation management system, companies will become a reference within their segment. This is because this standard will help control internal processes by extracting the best from each source and enhance employee engagement, all this without missing opportunities and collecting the best insights. As a result, the company will achieve a considerable increase in its market share and the added value of its products. Here, it is important to note that ISO 56002 also allows for an integration with other world-class standards, such as ISO 9001 and ISO 14001, which ensures best practices with quality management.
Other advantages that we can cite from its use are:
• Improved ability to deal with uncertainties
• Reduced costs and waste and, consequently, greater profitability
• Greater engagement among employees
• Better company reputation in the market, enabling business with larger organizations
Is ISO 56002 certification worthwhile?
Absolutely! Even though it is not mandatory, ISO 56002 certification carries enormous weight and importance in the marketplace – it can even be considered an important passport for international trade. The whole world recognizes ISO as the highest business management system reference. Therefore, many companies see an ISO certification as an important recognition, and many even see it as a requirement for trade and business partnerships. But beyond this, the audit process is a great possibility to see possible points of improvement. This becomes possible because the auditor responsible for the evaluation does not have any kind of link with the company, which allows him to use his expertise and knowledge to analyze everything that has been done and identify what can be improved – something that is unlikely to be identified by the people who are directly involved in the implementation. This is a lot of advantages, isn't it? How about we see how your company can implement it?
What are the requirements to obtain ISO 56002?
We have good news for those interested in ISO 56002: there are no prerequisites for the implementation of this standard! This innovation management system can be adopted by companies of all sizes and segments. Together, its implementation can happen in a single department, in the entire company, or even in several subsidiaries simultaneously. The process is very flexible and considers the needs and wishes of each company – which we will explain in a moment. Now, as much as this standard can be implemented by any company, don't forget: ISO only certifies legal entities. This means that in order to obtain its certificate, it is necessary to have a CNPJ.
How much does it cost?
There is no right answer. The cost of implementing ISO 56002 varies from one company to another – after all, each organization will have different needs and goals to be achieved. Nevertheless, it is worth remembering that it is necessary to calculate the complete value, which covers both the cost of the implementation process itself (which can be done by a consulting company such as PALAS, or internally), and the cost of certification, which must be done by a certifying body.
How to implement ISO 56002?
This is the big question that all managers and leaders ask when discovering the benefits that ISO 56002 will bring to their business. As we said throughout the text, the implementation process of this standard is laborious, and involves five crucial steps for its effectiveness. These are:
• Assessment – diagnosis of the company
• Innovation Committee – definition of the members who will be responsible for ensuring the creation and operation of the innovation system
• Implementation methodology – elaboration of the company's strategic plan
• Internal audit – evaluation of the work done by a third party
• Certification audit – performed by a certifying body to validate all normative items and state whether the company follows ISO 56002
Anyone can implement this standard in companies, but we need to reinforce that the maximum efficiency of the desired results will have greater chances of being achieved with the help of a specialized consulting firm. PALAS was the only consulting company in Brazil that participated in the process of formatting this norm together with the international committee. The company also won the first certification in Latin America, for MZF4, a nylon transformation industry, in the same week that the standard was published, in July 2019. This achievement put Brazil on the podium of global innovation, with our country being among the first three to win this certification. PALAS is also the only certified consulting firm in the country, showing that it lives exactly what it brings to its clients. The company also did the implementation process at ATENTO, a giant in the contact center area. Do you want to know how PALAS can help your company grow and stand out with an innovation management system? Contact us!
Conclusion
ISO 56002 is the big bet for the future of companies. Innovation is a latent trend, and the best strategy for companies that want to grow and stand out in an increasingly competitive market. Therefore, in this text we explain what is ISO innovation, its characteristics, benefits, and especially how to implement it effectively. If you liked this text, share it on your social networks and continue your visit to our blog. We have several articles on all trends in the world of innovation and how they can contribute to the growth of your business.
Alexandre Pierro
Mechanical engineer, bachelor's degree in applied nuclear physics from USP and master's degree student in innovation engineering at UFABC. He has worked for national and multinational companies, being responsible for improvement, projects, and management areas. He is certified in Six Sigma methodology – Black Belt, PMBoK and Scrum Master. Specialist and lead auditor in ISO standards management systems, he is founding partner of PALAS and one of the only Brazilians who participated in the process of formatting ISO 56002, of innovation management.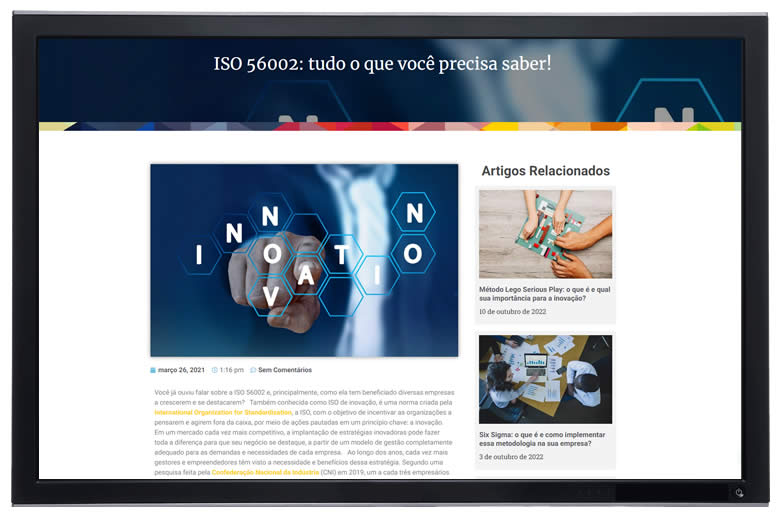 Published in PALAS website on March 26th, 2021:
gestaopalas.com.br/iso-56002-tudo-o-que-voce-precisa-saber
https://mzf4.com/wp-content/uploads/2021/03/news-mzf4-palas-tudo.jpg
300
384
Junior Parollo
https://mzf4.com.br/wp-content/uploads/2019/03/logo-MZF4.png
Junior Parollo
2021-03-27 09:00:11
2023-07-25 14:12:44
ISO 56002: all you need to know