A Voz da Indústria: ISO innovation for industries
ISO innovation for industries: what you need to know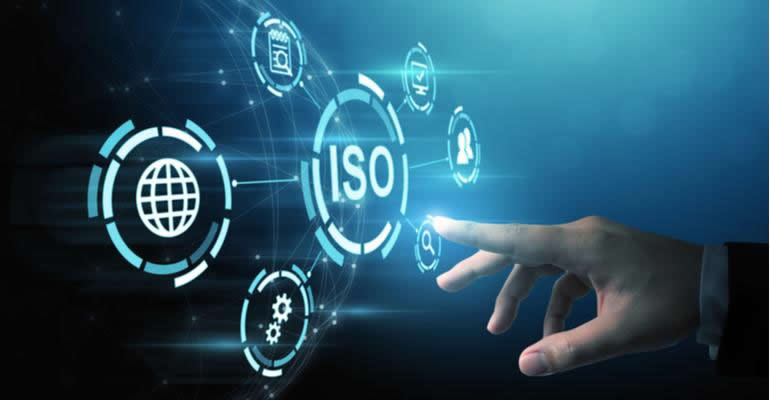 Known as the ISO of innovation for industries, ISO 56002 values the governance of innovation, allowing companies to innovate intelligently.
Innovation is a latent demand these days, essentially for the industrial environment. However, the constant and rapid transformations make companies feel completely lost to keep their business attractive and profitable in the face of so much volatility. To help them in this regard, the ISO of innovation for industries was recently launched.
Known as ISO 56002, the ISO of innovation for industries values the governance of innovation among companies of all sizes and segments, thus having great relevance within industrial environments. This is a standard that is based on eight pillars. "Together, these pillars allow industries of all sizes and segments to create a system to innovate continuously and organically," explains Alexandre Pierro, founding partner of PALAS, a pioneering consultancy in the implementation of ISO innovation for industries.
ISO 56002 – Innovation with relevance in Brazilian industry
ISO (International Organization for Standardization) is a non-profit institution based in Geneva, Switzerland. This organization was founded in 1947 with the aim of helping in the reconstruction of companies devastated by the Second World War.
The organization has more than 22,000 technical standards, with more than 180 management system standards that aim to establish worldwide standards for business management. Since its foundation, ISO has been the world's largest reference in business models. Among the most adopted standards are those for quality (9,001), environmental management (14,001), and occupational health and safety (45,001).
However, Alexandro Pierro explains that with the transformations arising from new technologies, the institution decided to create a management model for innovation, 56002. "In 2013, ISO created an international study group, ISO TC-279, in order to map the best innovation practices of all 164 member countries. Over these years, many countries have actively collaborated, as was the case of France, Canada, Portugal, Russia, Spain, England and Brazil itself."
Thus, in 2019, ISO 56002 was finally published. Pierro says that since its release, the relevance of the ISO of innovation for industries is quite great. "From this management model, industries of all sizes and segments are able to create a system to innovate continuously and organically, besides being a model to assist in the adoption of new Industry 4.0 practices," he cites. The standard suggests the creation of an innovation funnel, where people from all areas and hierarchical levels must present their ideas, which must be validated according to criteria established by the company. "Via the standard, the resources available for innovation are defined, such as people, knowledge, infrastructure and financial resources. The company outlines its goals and defines the processes to achieve them," adds Pierro.
Pillars of the ISO for Innovation in Industry
The ISO innovation for industries is based on eight pillars – strategic direction, process approach, value realization, future-focused leadership, collaborative culture, adaptability and resilience, uncertainty management, and insights management. Based on these pillars, ISO 56002 argues that an innovation can be a product, service, process, model, method, or a combination of any of these.
According to PALAS' founding partner, the concept of innovation is characterized by novelty and value. In short, this means that ideas without the manifestation of value are not innovations but inventions. "The great proposal of the standard is to create a governance process for innovation, so that the company can create a solid base for intelligent and constant innovation," adds Alexandre.
Pierro points out that the terminology of the main standard with the number two is an indication that it is a standard of guidelines and not of requirements. In other words, it points the way, but understands that there is no single recipe for all companies. "Innovation is a very broad, vast, and complex field of study. ISO understood that what works in one company may not work in another. Therefore, in addition to deeply understanding all these norms, the professionals involved in the implementation process must have a deep knowledge of innovation methodologies and tools to achieve really effective results," argues Pierro.
ISO certification process of innovation for industrial processes
According to Alexandre Pierro, the ISO certification process of innovation for industries is simple, and ISO 56002 can be implemented in companies of all sizes and segments. "It is possible to implement in a single department or in the company as a whole. There are also cases of implementation in several units at the same time, even in different countries, in the case of multinationals," he explains.
The first step to obtain ISO 56002 certification is to conduct an assessment. "This measure evaluates what the level of adherence of a company is in relation to the pillars of the norm," mentions Pierro. After that, the implementation process begins, which takes from four to six months, depending on the level of complexity and maturity of the company in relation to the theme. Finally, when the innovation management system is ready, a certifier performs the certification audit, which, if approved, issues the ISO 56002 compliance certificate.
With the certification, the company will be able, among many other advantages, to transform ideas into results. "We see many companies with sophisticated innovation labs, generating great ideas, but that, for lack of well-defined processes, end up never leaving the paper. With ISO 56002, ideas are taken seriously. We put creativity to invoice", emphasizes Pierro.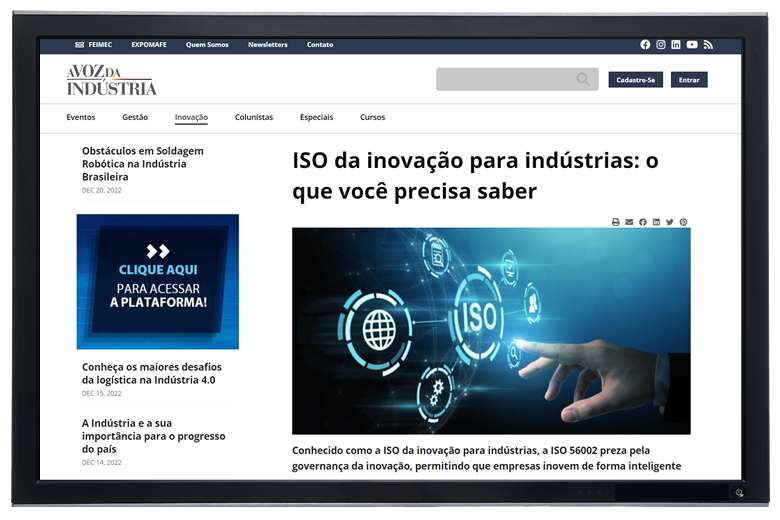 Published in A Voz da Indústria website on December 10th, 2021:
avozdaindustria.com.br/inovacao/iso-da-inovacao-para-industrias-o-que-voce-precisa-saber
https://mzf4.com/wp-content/uploads/2022/12/news-mzf4-avoz1.jpg
300
384
Junior Parollo
https://mzf4.com.br/wp-content/uploads/2019/03/logo-MZF4.png
Junior Parollo
2021-12-11 11:30:09
2023-07-25 17:55:21
A Voz da Indústria: ISO innovation for industries