Mazzaferro Strings in Música & Mercado magazine
Hyper.PRO strings brand is preparing several new features for the coming months, besides focusing on the relationship with users and expanding to other regions of Brazil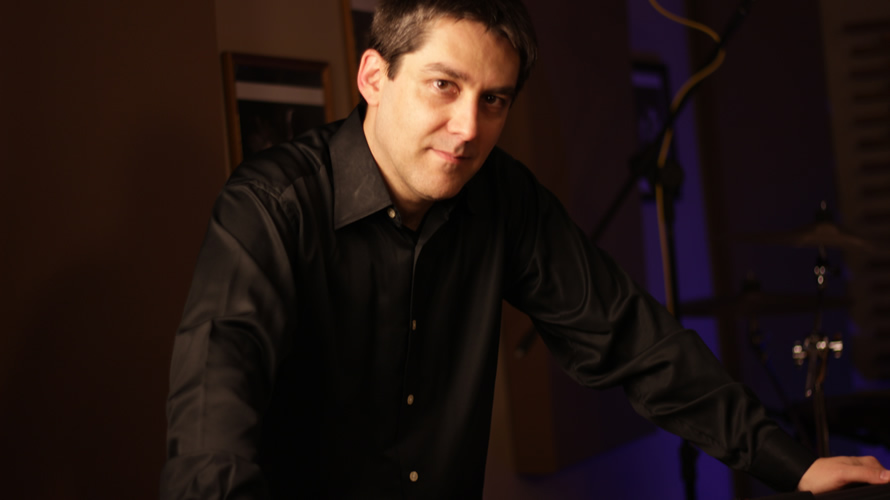 Júnior Parollo (Photo: Thadeu Lenza)
You have heard of Hyper.PRO, right? New brand of strings that was launched in Brazil in 2019.
Hyper.PRO came about as a result of Mazzaferro Monofilamentos' (now MZF4) relationship with Tony Acosta (founder and president of Luthier Music in New York, one of the biggest references in handmade guitar on the international scene, who passed away in February 2019). Tony was great friends like guitarists Jorge Morel and Paco de Lucia, and had as clients artists such as Andy Summers (from the band The Police) and George Benson, about whom Tony liked to tell stories with the classical guitar in his works.
Mazzaferro already produced musical strings for other recognized brands in the market. "Tony knew our strings years before and classified our product as high quality, able to enter the market with its own brand, focusing on great sound and high durability. With this objective, Fabricio Saad, MZF4's marketing director, created the Hyper.PRO project, targeting the premium classical guitar strings market in Brazil," says Junior Parollo, product and artist relations specialist at Hyper (Hyper.PRO and Hyper.Class, by MZF4 Strings).
But there was a point: Mazzaferro produces only nylon monofilament, which, in the case of guitar strings, are only the three high strings. The other three strings, the low ones, are made of a bundle of very thin nylon multifilaments, coated with a metal alloy spiral, sometimes plated with metals such as nickel and silver. Such ropes with metallic elements are not produced by Mazzaferro. To meet this demand. Tony Acosta recommended the U.S.-based company La Bella, since Luthier's production was too small to supply its own needs.
That is how the partnership that continues today came about, with Mazzaferro (now MZF4) producing the nylon high strings and adding metallic strings imported from La Bella to the Hyper.PRO guitar line (in four tensions: light, medium, heavy and extra). "In the case of steel guitar strings, we will launch, in mid-2019, Hyper.PRO phosphor bronze, with complete sets imported also from La Bella, packaged and distributed by MZF4, in versions 010, 011 and 012," adds Junior.
At the same time, aiming to expand the product mix, two new lines were launched. First, the Hyper.PRO line for ukulele in two versions: one for concert/tenor ukulele and another for soprano ukulele, in response to the rapid growth of the ukulele market as a worldwide phenomenon. "In this case, because it is a product without metallic elements, it is totally produced by MZF4, following the best international standards for nylon strings for this instrument," he commented.
Next, Hyper.Class line was launched, initially with medium-tension nylon strings, for an amateur/student public, with lower prices and importing the bass strings from other suppliers, selecting them after the same rigorous tests with musicians performed on the Hyper.PRO line. In the second semester, a version with the seventh string for nylon guitar (medium and heavy tension) was added to Hyper.PRO, following a growing trend for this type of instrument in the Brazilian market, especially in samba and choro.
Junior details: "The products are launched after intense research and, since the launch, there have been no changes in these items. We added or modified some details in the packaging, adapting it to retail requirements and bringing more information to facilitate the identification and understanding of the characteristics of the products in the store. As the brand is often called just Hyper, especially after the launch of the Class line, the name/brand Hyper is increasingly being formed, with the Hyper.PRO line as premium and Hyper.Class as intermediate. We do not aim to reach or associate the brand with the popular segment with any line, as this is already served by a wide range of manufacturers."
The brand and its concept
Hyper.PRO is a brand with a modern posture, which entered a basically conservative and traditional market, bringing new ways of communicating and selling. At the time of launch, the intention was to make the sale essentially online, through its own virtual store, in addition to some partnerships with music education institutions or specialized platforms.
But in the first months it was decided to focus more on retail, making the brand present and known in traditional points of sale. And with Hyper.Class it was possible to reach a public actually larger than the premium one (highly qualified, selective, but smaller in market volume).
"Hyper.PRO came as an unknown brand, which gradually gained ground based on quality and cost-effectiveness. It has a competitive price compared to similar brands, which are usually imported over the Internet or found in retail stores for higher prices: brands such as Thomastik, Savarez, Hannabach, in addition to La Bella itself (guitar) and Aquila (ukulele)," explains Junior.
"Among musicians, everyone who has contact with Hyper.PRO recognizes and highlights its quality, from production to service. For them, we have a product of international quality, but available in our retail market, which comes to fill an old gap previously filled by more expensive and less convenient options, subject to delayed delivery or price variations by the exchange rate."
In this way, the brand's reputation has grown a lot in several places in the country, recommended by a growing range of music professionals and retailers. It is currently present in about 200 stores in Brazil, basically in the Southeast, Northeast and South regions. "We are now looking to expand into the North and Midwest. Hyper.PRO remains positioned in the premium segment, and Hyper.Class in the intermediary segment," he explains.
News for this year
For 2020, the brand is preparing the launch of Hyper.Class for the other nylon guitar tensions (light, heavy and extra), in addition to new lines for steel guitar, guitar and bass in the coming months. In addition, "we keep betting on a more direct relationship with the consumer, listening to what the market really expects, showing our customers' opinions in our channels, because their testimonials about how satisfied they are with our products have been a great advertisement, in addition to the testimonials from MZF4 professionals themselves about working with Hyper," says the product specialist.
Hyper expects to cover the entire national territory and to develop regional actions, adapted to the reality of each state, for each music style present in the country, aiming to bring together artists, representatives, and retailers in favor of a common goal, which is "to see Hyper more present, more available, and engaged in spreading the richness of our musical culture. All this tends to strengthen the brand's image and its presence in the market," he emphasized.
"We always want to give space to the musician who uses our products, publicizing their work that is performed with our strings. They like to feel part of something that grows based on quality, seriousness, and attention to the musician himself. Without them, without their trust, we wouldn't be where we are now. And we want to grow much more, strengthening this relationship even more," concluded Júnior.
For more information:
hyperprostrings.com.br
mzf4.com.br
HyperProStrings (Facebook, Instagram, Twitter)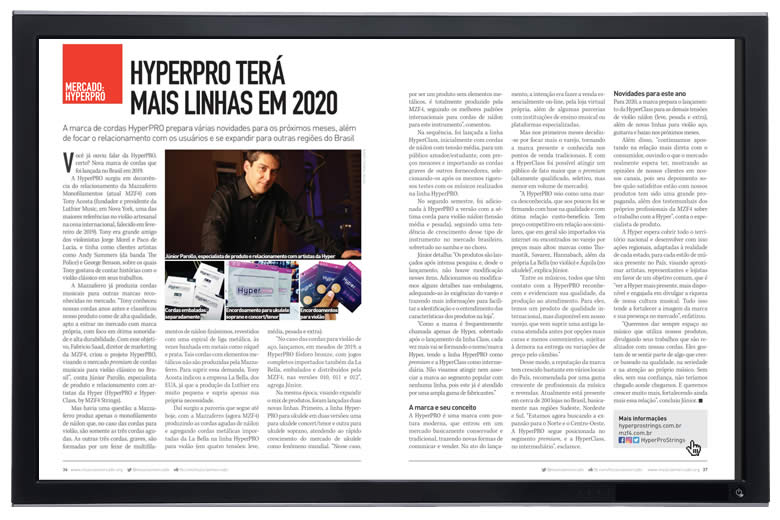 Published in Música & Mercado magazine #107 on March 11th, 2020:
musicaemercado.org/hyperpro-tera-mais-linhas-em-2020
en.calameo.com/read/00411748188795804739c
issuu.com/musicaemercado/docs/mm107
https://mzf4.com/wp-content/uploads/2022/12/news-mzf4-hyper-junior1.jpg
300
384
Junior Parollo
https://mzf4.com.br/wp-content/uploads/2019/03/logo-MZF4.png
Junior Parollo
2020-03-12 10:00:35
2023-07-25 13:29:42
Mazzaferro Strings in Música & Mercado magazine