Small Companies & Big Businesses (Globo)
ENTREPRENEURSHIP
Sebrae promotes a lecture and a free webinar on innovation ISO
Alexandre Pierro, one of the experts who participated in the development of ISO 56.002, discusses the process and the benefits of this certification
(Sebrae News Agency)
Lecture to feature one of the experts involved in the development of the standard.
Innovation is a pressing demand in today's world. However, faced with a context of significant and rapid changes, coupled with exponential technologies, companies often feel lost about how to maintain an attractive and profitable business in such a volatile environment.
That's why ISO 56.002, a standard for innovation management, was introduced. It will be the subject of a lecture and a webinar by Sebrae on February 17 and 18, with the participation of Alexandre Pierro, co-founder of PALAS, a pioneering consultancy in the implementation of ISO 56.002, and one of the experts who contributed to the development of this standard.
Innovation ISO
Based on eight pillars – a process approach, future-focused leadership, insights management, strategic direction, resilience and adaptability, value creation, adaptive culture, and uncertainty management – ISO 56.002 argues that innovation can be a product, service, process, model, method, or a combination of any of these.
"However, the concept of innovation is characterized by novelty and value. In essence, this means that ideas without the manifestation of value are not innovations but inventions," affirms Pierro.

Brazilian Case
In the same week that the standard was officially published in July 2019, PALAS implemented the standard in the first industry in Latin America. Our country was among the first three to achieve certification, alongside China and England. MZF4, a nylon transformation industry located in the capital of São Paulo, went through the implementation process even in the draft version of the standard and achieved this prominent position.
Benefits
Among the expected benefits of implementing ISO 56.002 are the involvement of all stakeholders in innovation projects, the continuous generation of ideas, the creation of an innovation culture, as well as the development of new products and even markets not previously explored by a company.
"Besides becoming a reference in innovation, the most significant advantage of implementing this standard is to turn ideas into results. Unfortunately, we see many companies generate excellent ideas, but due to a lack of processes, they never go beyond the Post-it notes. With ISO 56.002, ideas are taken seriously. We put creativity on the invoice," Pierro emphasizes.
Expectations
Several companies in Brazil and worldwide have already been certified or are in the process of implementation. Among them is Airbus, the aerospace company, which announced its certification in December 2019. Market expectations for this certification are significant.
"Many experts believe that innovation is becoming what quality was in the 1980s and 1990s. To stay active and profitable today, companies need to innovate, and there is nothing better than a process structured by an institution as reputable and international as ISO to ensure that innovation occurs continuously, smoothly, and efficiently in generating results," Pierro concludes.
Lecture – In-person
Sebrae Day
February 17, 7:00 PM
InovaBra: R. da Consolação, 2302 – Consolação, São Paulo – SP
Webinar – Online
Sebrae Incubator
February 14, 2:00 PM
Live on Facebook e YouTube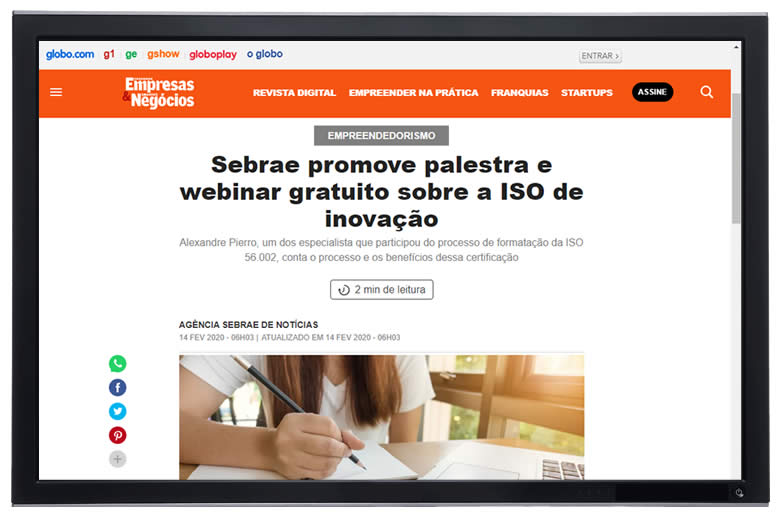 Published on the PEGN Globo portal on February 14th, 2020:
revistapegn.globo.com/Empreendedorismo/noticia/2020/02/sebrae-promove-palestra-e-webinar-gratuito-sobre-iso-de-inovacao.html
https://mzf4.com/wp-content/uploads/2023/10/news-mzf4-pegn.jpg
300
384
Junior Parollo
https://mzf4.com.br/wp-content/uploads/2019/03/logo-MZF4.png
Junior Parollo
2020-02-17 07:00:31
2023-10-13 11:52:14
Small Companies & Big Businesses (Globo)