Portal Press: new communication agency
Mazzaferro creates communication agency specialized in the beauty market
Mazzaferro is giving a new and important direction to its history. The company has just announced the creation of its first business unit focused exclusively on the service area: an integrated marketing agency specializing in the beauty segment, 3Chology. The division is born independently, but taking advantage of the synergy with other businesses in the Group. The idea came as a consequence of the expansion strategy, which is based on the transition from economies of scale to economies of scope.
The greatest example of this synergy is found in Color Charts, a business unit that for three years has produced coloring cards for hair coloring demonstrations with a high intangible value. It was precisely this division that aroused the interest in expanding into the services segment, since the team of this unit began to be actively approached by customers, who increasingly demanded additional marketing services, motivated by the quality of the design presented.
3Chology was born with three focuses: trade, products and digital. Trade is focused on the design of packaging, catalogs, POS actions and promotion. The products pillar operates in brand positioning, launches, innovation and trend capture. The digital area offers web services, content and inbound marketing, as well as performance campaigns and social media management.
As complementary differentials of the whole process, 3Chology developed its own methodology, based on Design Thinking, one of the most used innovation techniques in the market, inviting the client to participate in a co-creation format since the beginning of the partnership. In addition, it created a unique selling proposition of guaranteed satisfaction.
With all this preparation, the expectations for the new business are the best. "We understand that the beauty market is very specific, requires operational refinement and a different emotional understanding. Having an agency especially dedicated to the segment is a great competitive differential," recognizes Fabrício Saad, managing director of the agency. By the end of 2018, 3Chology is preparing to serve five pre-selected clients. In 2019, the goal is to reach no more than 12 clients, seeking to maintain, in this way, its purpose and competitive differential.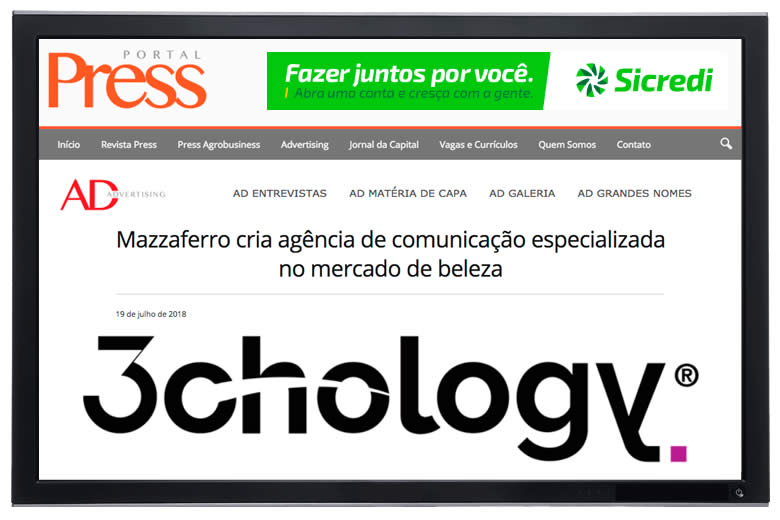 Published on Portal Press on July 19th, 2018:
revistapress.com.br/sem-categoria/mazzaferro-cria-agencia-de-comunicacao-especializada-no-mercado-de-beleza
https://mzf4.com/wp-content/uploads/2018/07/news-mzf4-3chology.jpg
300
384
Gustavo T. Alvarenga
https://mzf4.com.br/wp-content/uploads/2019/03/logo-MZF4.png
Gustavo T. Alvarenga
2018-07-23 10:00:57
2023-07-24 13:16:30
Portal Press: new communication agency