Blog da Sheilla Martins: Hyper.PRO strings
Mazzaferro4 launches own brand of musical strings focused on the professional audience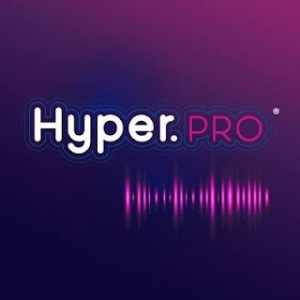 Leveraging the Italian-American DNA, Mazzaferro4 – Innovation for You, Latin America's leading reference in string-based solutions, comes to market with its own brand of high performance musical strings. Hyper.PRO unites the high quality nylon strings produced by the company, which guarantee the high-pitched sound, to the metal-coated strings – bass sound – from one of the world's most traditional manufacturers of musical strings, La Bella – based in the United States.
"Hyper.PRO was born out of a demand from the market, which has long seen the professional quality of our product. We decided to invest in a complete solution, with high added value. I'm talking about service, concept and specific solutions," says Fabricio Saad, CMO of Mazzaferro4.
During the second half of 2018, a blind test, conducted with five other competing brands, proved that Hyper.PRO lasts up to 58 times longer than the other strings analyzed, without the loss of timbre and sonority being identified.
QUALITY
The harmony of the Hyper.PRO string set has a seal that is also recognized worldwide for its quality. Tony Acosta, classical musician, and owner of Luthier Music Corporation, based in the United States, is responsible for the balance between Mazzaferro and La Bella strings. "We seek the best in harmonization and material quality, and we guarantee a competitive value for our strings, with part of the production made here in Brazil, but adding Italian design and technology present in all Mazzaferro4 products," explains Júnior Parollo, Product Manager at Hyper.PRO.
Hyper.PRO offers a national option of professional strings set, with values between 60 and 80 reais. "We fill a gap in the market, for those who need an intense change of strings, a concert performer for example, and have difficulty finding harmonious and quality strings in Brazil and, today, import them. Hyper.PRO comes to compete with foreign brands. It combines technique and value," explains Parollo.
CULTURAL CONTEST
Several musicians and professionals in the area validate the quality of Hyper.PRO and have become endorsers of the brand. Among them: Glau Piva, Frank Hoenen and Carlos Iafelice Jr. (Carlos Iafelice Music Academy), Daniel Ruberti (Calango Brabo band), and Marcus Teixeira and Everton Gloeden (EMESP).
"We are presenting the product to professional musicians and their feedback is precious, because it will help us to always evolve," reinforces Parollo.
To introduce the new product to the public, the Sou+Hyper cultural contest will award the author of the most creative video about what it means to be Hyper! Participants compete for a year of Hyper.PRO cords. All the details on how to participate are on the brand's social networks.
instagram.com/hyperprostrings
facebook.com/HyperProStrings
SINGLE STRINGS
The new business unit of MZF4, a company of the Mazzaferro group, begins with the prospect of sales of 100,000 sets of strings already in the first year. The sales are mainly done through e-commerce, at www.hyperprostrings.com.br, in order to serve musicians from all over Brazil, besides being in strategic points, such as specialized stores, studios and music schools, such as the Souza Lima Conservatory in São Paulo.
Classical guitar strings are the entry set. And, throughout the year, new versions, for five other instruments, will be launched. Among them, electric guitar and electric guitar, cavaquinho, and the great international trend, the ukulele, with great potential for expansion also in Brazil. Besides the diversification of products, with the sale of separate kits of high and low strings, and also the sale of colored and single strings – which is common abroad. 'We will have other launches throughout 2019, always aiming to anticipate trends and solutions,' adds Parollo.
ABOUT MZF4
MZF4 is a company of the Mazzaferro Group and the largest reference in creative solutions and high value-added products, from yarn, in Latin America. Focused on creativity, innovation and customization, the company operates in the medical, beauty, housewares, industrial sewing threads, dental bristles, musical instruments – with the recently launched Hyper.PRO -, among others. It has dozens of products that positively impact and transform about 50 business chains, and is present in the daily lives of thousands of people in Brazil and worldwide, with exports to over 60 countries.
Source: Press Office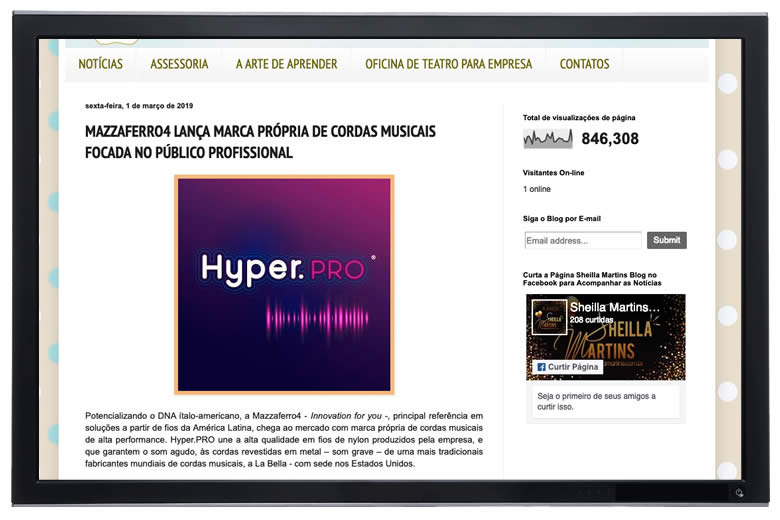 Published in Sheilla Martins blog on March 1st, 2019:
sheillamartins.com.br/2019/03/mazzaferro4-lanca-marca-propria-de.html
https://mzf4.com/wp-content/uploads/2022/12/news-mzf4-sheilla1.jpg
300
384
Junior Parollo
https://mzf4.com.br/wp-content/uploads/2019/03/logo-MZF4.png
Junior Parollo
2019-03-07 16:00:03
2023-07-25 11:24:26
Blog da Sheilla Martins: Hyper.PRO strings